A visual merchandising workshop for independent retailers

Our Visual Merchandising Course could help:
• Increase your display visual impact
• Improve your turnover
• Reduce your waste
• Learn about display tricks of the trade
Next Event Date
COMING SOON
To book an appointment or find out more about our next training event.
Call: +44(0)1376 510 101
Email: sales@dalebrook.com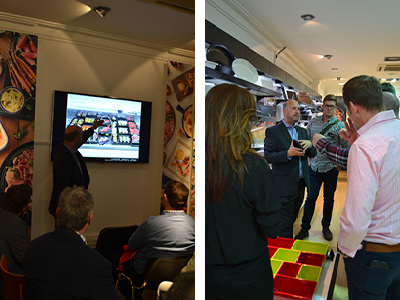 ---
Customer Reviews From Seeing Is Believing Event
I think on the whole they are very informative and I think that thanks to your organisation and Mr Chudleigh's presentations you walk away with great insight into displaying products and rather than it feeling like a sales pitch. You are given an insight in how to do a display properly and then offered the tools to do it with at the end. I think that this will be very helpful for our staff, not just the managers and I would like to send some of our younger members up to the showroom for the morning/afternoon/day for some training.
Here at Fuller's Butchers and Farm Shop we have always found Dalebrook's products and support second to none, with their innovative designs and displays. Some members of our team were lucky enough to attended one of Dalebrook's training days "Less is more" which was extremely informative and helped them to make the best of our counters and products.
Having visited the Dalebrook showroom in London and listening to Martin's presentation I hadn't realised how much times have moved on from stainless trays and greens. Inspired I came back to the shop and decided to make the change to new layouts with different tray shapes at different levels and different textures. By using black trays, marble effect, slate and wood effects our display looks really eye catching and attractive to customers. We are able to highlight cuts of meat that we want to promote much more effectively and at a cost significantly less than having a new counter. Martin and David have certainly helped us refresh our meat displays and we are very pleased with the results.
Following our visit to the London Showroom of Dalebrooks by myself and Andy second visit of one of our team we found it most interesting to review our business and look at our displays in a totally different way. We are all guilty of having the same products in the same location for in some cases years, we are all guilty of falling into the trap of been comfortable with in our zone. By changing our outlook and looking from a customer's eye we have seen the light of making us change our selling strategy, with less is more. A very worthwhile exercise.
Having been on the Dalebrook demonstration day it has really opened my eyes as to what can be achieved by creative display. Less is definitely more! Since using Dalebrook in our counters we have seen a considerable increase in sales. They definitely provide a wow factor which excites customer and staff alike.
The training days have given us the confidence to create some wonderful window and cabinet displays knowing the knowledge that Dalebrook offer, is always there. High quality, which helps to enhance the quality of our products. Dalebrook trays give an instant impact to our displays (customers think we have had a refit).
Phone
+44 (0) 207 580 0812
Email
sales@dalebrook.com
Location
First Floor
31/32 Eastcastle Street
London
W1W 8DN
United Kingdom
Nearest Stations
Oxford Circus, Bond Street
Tottenham Court Road,
Goodge Street, Regent's Street,
Great Portland Street