Omni Collection

Dinnerware for the Health & Social Care Sectors
At last, Dalebrook brings you OMNI, a revolutionary, meaningful, designed for purpose, melamine dinnerware range. Created in response to a real demand identified by our customers who are unable to source a suitable dinnerware range for the healthcare sector.
Our in-house design team have worked with hospitals, care homes, carers and dementia sufferers to create a fit-for-purpose healthcare dinnerware range that generates a positive dining experience. Sturdy, durable and virtually unbreakable, OMNI premium melamine dinnerware and drinking aids promote equality, maintain dignity, encourage independence, and wellbeing. With discreet features designed to empower those who have difficulty in using traditional porcelain crockery or fine china, OMNI can be used by anyone, anywhere with confidence.
made from 100% food-safe premium melamine
BPA-free
melamine is a great insulator it keeps
- hot food and drink warm
- cold food and drink cool
durable, strong and practically indestructible
has the appearance of porcelain
dishwasher safe
considerably reduces the impact of noise during service
GREAT NEWS!
Dalebrook's OMNI range has been named winners for The Caterer Magazine's 2018 Product Excellence Awards (PEAs). The PEAs recognise excellence and innovation in food, drink and equipment products.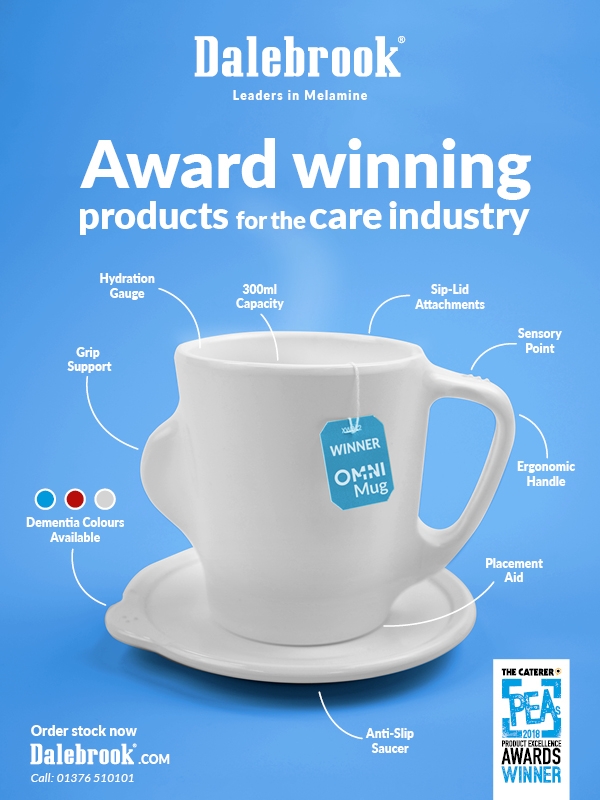 ---
Do you require a custom piece or colour?
If you require a custom piece or colour, our design team specialise in creating and producing new concepts from the ground-up. Please contact our consultants who are happy to discuss your needs, please email sales@dalebrook.com or call 01376 510101.