Garnish Collection

Dalebrook's Green Garnishing
Founded in 1945, Dalebrook began by making green garnish to enhance the appearance of butchers' windows during the post-war period of rationing in London.
Over 70 years later and the tradition of placing garnish in between the trays of a butcher's display continues and is still part of the DNA in many traditional retail displays across the world.
G2 Red and Green Garnish
This garnish is designed to interlock to create longer dividers
Available in three lengths
All other garnishes slide into bases in lengths of 250, 500, or 750mm
Pack Size
Please note our G35 Luxury Parsley is sold in packs of 6 and the rest of our 250mm garnish is sold in packs of 12. The longer 500mm and 750mm dividers are sold as individual pieces.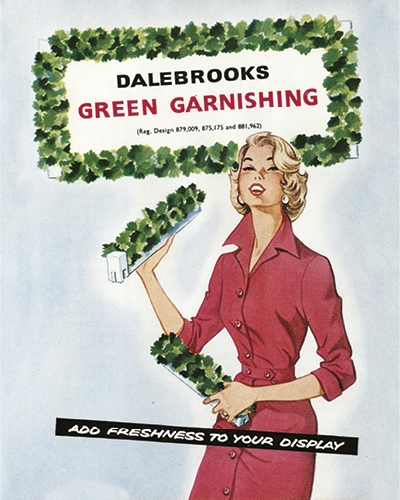 ---
Refills Available
We appreciate that the demands of a professional butchery environment put the garnish in a very tough hardworking environment, this is why we are able to offer garnish in refill packs, so you can maintain your display. If you require a refill pack, please contact our customer care team for more information. Email sales@dalebrook.com or call 01376 510101.