Enamelware Collection

Hygiene in the Food Service Industry
Dalebrook's Melamine Enamelware Range presents a modern, food safe solution for restaurants, pubs, butchers and even fishmongers looking to embrace the current trend for retro food presentation ideas.
Hygiene is of paramount importance and the storage, preparation and cooking of food is carefully handled and managed by venues and caterers within the food service industry, but how is hygiene taken into consideration when it comes to service and presentation?
Recently, we have seen an increase in the use of real enamel as restaurants, pubs and food outlets adopt the trend for unconventional, quirky serving equipment, but traditional enamel as a material presents a hygiene and safety issue for food service operators as it's renowned for its fragility, often cracking and chipping after only being used several times.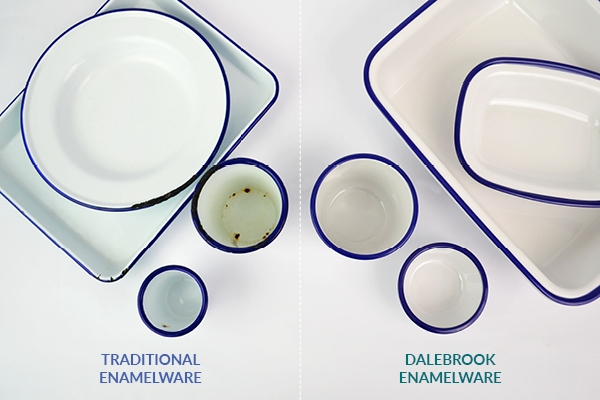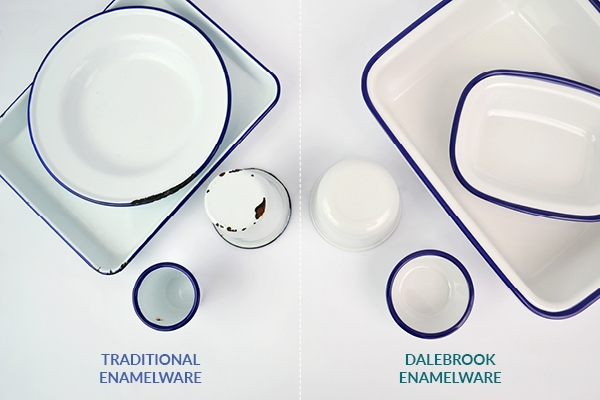 Martin Chudleigh, Marketing Director of Dalebrook Supplies explains;
"Alternative serving solutions may look the part, particularly with food service venues focusing on popular retro themes. Real enamel trays and bowls are often used to display burgers, meats and fries, but customers often have an issue with food arriving or being displayed on rusting, flaking enamel trays due to hygiene concerns."
"At Dalebrook, we've seen a marked increase in the demand for an alternative to real enamel serving solutions. Our Enamelware Melamine dishes, trays and pots are durable and practical, giving the customer the confidence that their dish is served with complete hygiene and safety in mind. Food service operators can be assured that their products can be thoroughly cleaned in the dishwasher, unlike other food service alternatives like wood or real enamel, offering them a durable serving solution that can be used again and again."
Martin concludes;
"With alternative melamine products, food service operators can guarantee their dishes are served safely and with complete hygiene in mind. There's no need to compromise on style and design as our product ranges embrace the latest trends whilst being practical and safe too."
All Dalebrook melamine products are inspected, examined and tested with quality checks that not only meet but go higher than the European Food Safety Standards.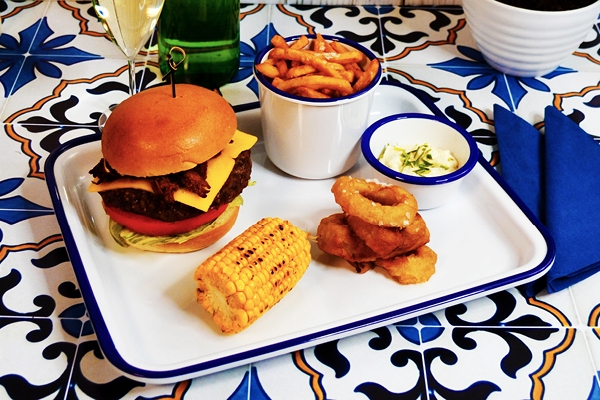 ---
Could switching to melamine benefit your business?
If you would like more information on Dalebrook's products and how switching to melamine could benefit your business, we would love to hear from you. Please email sales@dalebrook.com or call 01376 510101.