Chunky Crock Collection

Celebrating 18 Years of Chunky Crock
Unbelievably we are now celebrating the 18th anniversary of what has become an iconic crock for the contract catering salad bar.
Looking to move away from a standard gastronorm size product but still needing it to fit in a GN footprint Sodexo UK asked Dalebrook to design a new style crock.
Originally designed in polar white for the high-level Business and Industry salad bar sector, the modern and minimalistic, straight edge melamine Chunky Crock has moved into delis and the black has become popular in Butchery counters.
2018 brought a refreshing introduction of lime green and red colour options which can be used on their own or mixed with the existing Polar White and Black crocks.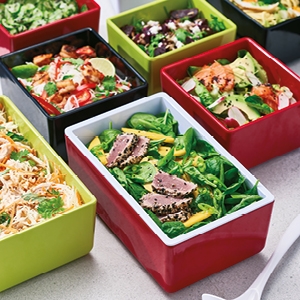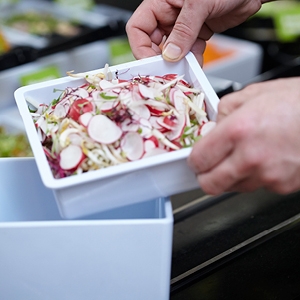 This very versatile crock works with Dalebrook's condiment stands, the silicone feet means the product doesn't slip and inserts reduce food wastage and create the illusion of abundance of the display during food service.
Martin Chudleigh, Marketing Director Dalebrook Said;
" Celebrating the Chunky Crocks 18-year anniversary and watching it still gaining in popularity, proves listening to our clients need and executing the right solution proves we are the right place to go when looking for inspiring food displays with longevity."
---
Are you looking for a new counter display?
If you are looking for a new way to display your salad bar, please contact us our consultants and our design team are ready to help and advise you in creating your ultimate product solution. Please email sales@dalebrook.com or call 01376 510101.